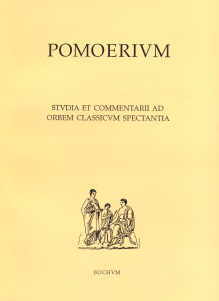 The full list of resources can be found at prime-essay.net.


Information for Authors

Call for Papers

vol. 1 (1994)

vol. 2 (1996)

vol. 3 (1998)

vol. 4 (2003)

All articles will be submitted to an editor and evaluated for publication.
All publications will take place electronically on this web page.

Manuscripts, subscription requests and all correspondence
should be sent to the Managing Editor.

For permission to reprint, please contact the individual contributors.

Quoting this document, please remember to mention the electronic edition of the journal
in the form: POMOERIVM - http://pomoerium.com.